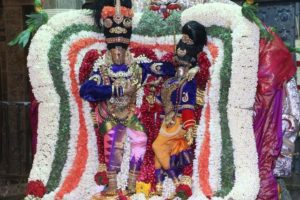 Thousands assembled at Sri Kapali Temple, Mylapore on the first day, Jan 31 evening, to watch volunteers carry Sri Kapaleeswarar and goddess Karpagambal from the eastern entrance of the temple to the temple tank.
The event started a little later than scheduled, the reason being the super blue blood eclipse.
Elaborate arrangements have been made by the city police to manage the crowd. Fire personnel, in a boat, will follow the float as it makes its rounds. 
Thai poosam teppam is an annual three day event dedicated to Sri Singaravelar. The event will end today evening.