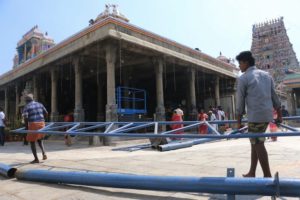 There is hectic activity on all fronts in and outside Sri Kapali Temple, Mylapore. The busy bees are preparing for the Panguni festival that starts on Wednesday with the grama devathai ceremony.
Workers are erecting massive temporary roofs inside the temple and on Sannidhi Street; others are dusting the vahanams, others are painting floors to brighten the campus.
In a few days, the nomadic hawkers will also pitch their tents on the mada streets.
Mylapore Times plans to post online snappy videos of all the key events of the fest. They can be seen at www.youtube.com/mylaporetv