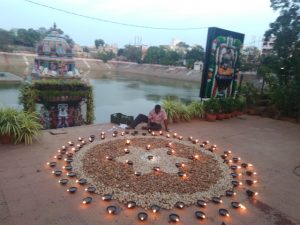 Lighting lamps in temples during festivals is a common practice. But lighting 1,00,000 lamps simultaneously with perfect coordination is a treat to watch.
Such is the case at Sri Kapaleeswarar Temple tank, where the bright Pournami moon and lakhs of deepams together illuminate the place after dusk.
Held for 3 days, starting from Tuesday, May 29, this grand illumination is organised as a part of the annual Vaigasi Visagam festival.
– Report, photo by Nivedita Venkateswaran / Intern