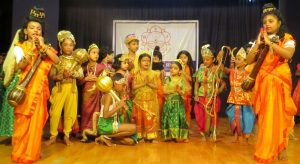 It is late January. The parents and students of Dwarakamai Educational Service Center, an after-school activity center at C. I. T. Colony, Mylapore, get together to plan their annual day.
Ideas are tossed around and they zero in on dances, dramas, music and slokas for children. The parents too decide to join in, it is pinnal kolattam and an onam dance for them.
Once a week, the group assemble. Parents and children learn the steps. Videos are taken and practice sessions are held at home.
April 8. The D-day has dawned. The students are ready. More than half of them are toddlers.
The hall is packed, seniors are seen chatting with one another. When the toddlers climb up the stage at Narada Gana Sabha, Alwarpet, silence takes over. The slokas are near perfect, the ragas have been well taught.
The audience is in awe, the efforts by the parents is evident. A day to remember indeed.