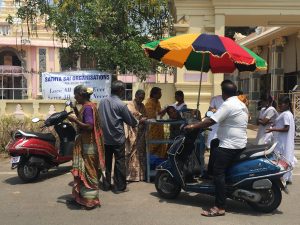 The volunteers of Sathya Sai Organisations will distribute buttermilk freely for 15 days, starting today, May 1.
The freshly churned buttermilk will be given to the thirsty 10:30am onwards outside the Sundaram Shri Satya Saibaba Temple on Pughs Road in R. A. Puram.
This initiative, started in remembrance of Shri Satya Sai Baba's mother has been taking place every year for 4 years at this centre and on Warren Road, Mylapore.
"We want to teach children the necessity of giving, and of doing service selflessly. We conduct camps for children living around this area to help them in any way possible. We focus on life values and on English and Math for those who need help," says Prema, a teacher and volunteer at the Shri Satya Sai Baba Temple.
Sponsors and volunteers can contact the temple's office at 2434 6255.
Report and photo: Rajeshwari G Rao/ Intern at MT