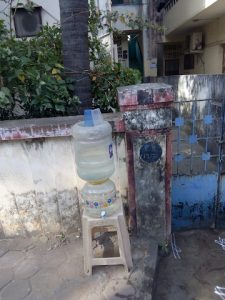 Mylaporeans are turning to be gracious people this torrid summer. Many of them are providing water to passersby or for animals on the street.
Groups are doing this service at temples or community space gates.
Ramarao Road resident Baskar Seshadri mailed to say he places a water can in front of his house to serve many people who work in the open.
Says Baskar who enjoys posting Mylapore street life stories on his FB page, "From the courier boy to the gas delivery staff this comes as handy to quench the thirst. Of course,  the boys who play on the road make sure that that my can gets empty in a day!".
– Photo; Baskar Seshadri
– SHARE A STORY – of people or groups who reach out or do a nice turn for the community. Mail to – mytimesedit@gmail.com