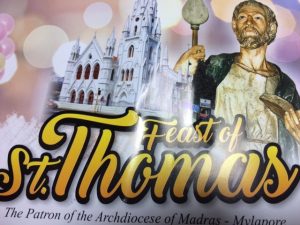 The annual feast of saint Thomas, patron saint of the Catholic diocese of Madras-Mylapore is to be celebrated from June 29 to July 8, with novenas and Mass every evening at the St Thomas Cathedral, San Thome.
The flag hoisting will take place June 29, 5.30 pm and the feast will be celebrated on July 3. Mass on this feast day will be celebrated at 5.30 p.m. by Rev. Dr.George Antonysamy, archbishop of the diocese.
A car procession, starting from the St Lazarus Church zone to the cathedral will be held on July 7 evening and the celebration comes to a close with the lowering of the flag on Sunday evening.
During the feast days, at 11 a.m., Mass will also be celebrated in the crypt chapel in this campus.
(Visual here is taken from a feast  brochure)