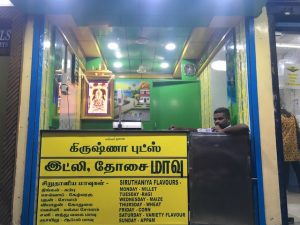 Krishna Foods on East Mada Street opened in early June and sells traditionally made idli and dosa batter. What is unique about this place is that they make use of millets, providing a different batter on each day of the week.
Why millets?
Says Shiva, the shopkeeper, "I'm mixing it with batter to make it more healthy. I think the increasing awareness of people and their need to stay fit is also a reason because of which this is a success."
The shop offers a variety and on Sundays, batter to make yummy appams.
Shiva says that the batter is made in the traditional method and lasts only for two days. A kilo of batter is priced at Rs.35 and the shop is open from 5:15am to 10:45pm.
The flavours are: Monday – Millet, Tuesday – Ragi, Wednesday – Maize, Thursday – Wheat, Friday – Corn, Saturday – Mixed variety, Sunday – Appam maavu.