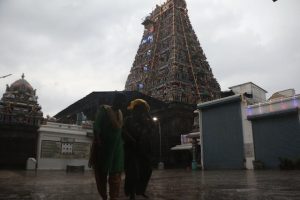 Monday evening. It rained. For about 30 minutes in some parts of the neighbourhood. Lesser in other parts.
What started as a drizzle at about 6.30 p.m. grew into a steady phase of rain though it was not a downpour.
Th skies were overcast since noontime and as the skies opened later on Monday evening.
Photo of people inside Sri Kapali Temple, Mylapore shot when it rained.