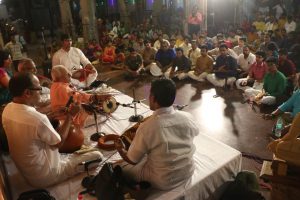 Rain is music. If you care to listen to it.
On Thursday evening, the music of the percussion instruments rallied with the drop of rain as the Day One concerts of the Patri Drum Fest got underway at Sri Kapali Temple, Mylapore.
Rain was expected; it has been blessing the city every evening. But host Patri Satish Kumar, himself a well-known mridangist let the concerts roll.
Maestro Dr T K Murthy got going on stage and so did his co -artistes; just percussion. The rain fell all around the Navaratri mantap here and the music may have even coalesed and rasikas enjoyed the situation.
The fest runs for three evenings – just Carnatic music percussion.