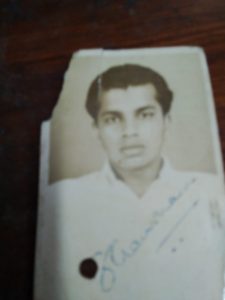 Have you heard of the thinnai pallikoodam which was run on South Mada Street?
In a tiled houses like the many that marked the facade of this now busy street. It was located where Sangeetha Restaurant now stands and it has a great place in the memories of young Mylaporeans who lived in this area and were admitted to primary school here.
S. Ganesan attended this school and then went to P S School. He has many memories of school life of the 1940s in this part of Mylapore. And he has told his story.
As part of the Mylapore Social History Project, Mylapore Times is talking to people who have stories to share and photos too.
It is an effort to document social life of ordinary and extra-ordinary people and institutions. To start with, those of the daily life – in schools, in colleges, playgrounds, markets, religious spaces, civic bodies.
If you or your folks have stories of Mylapore of the 50s and 60s or of earlier times, the project member, Bama Ranganathan would like to listen to them and record them.
Ping us at 2466 0269. Now.
Ganesan's story will be posted online soon.
Photo of Ganesan when he did his IA&AS exam.