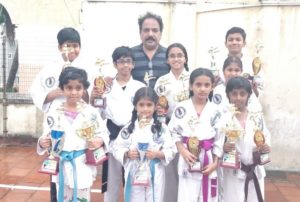 At the district karate tournament organised by the International Shotokan Karate-Do organisation on Aug 5 in the city recently, 17 students from Mylapore based Boufuuukai Isshinryu Karate School participated in 26 events and won 20 prizes.
Two, eight and ten students won the first, second and third prizes respectively. S. Vaishnavi and M. Varun, both aged 7 years old, were the youngest participants from the School.
The school, which celebrated its 20th anniversary last year, is run at three locations by A. R. Sundar in the Mylapore area. For details contact 9840018628.