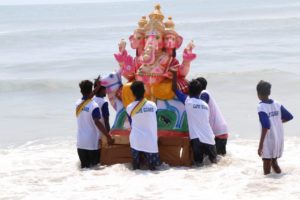 Thousands of idols of Lord Vinayaka were immersed at the beach at Foreshore Estate and Marina Beach yesterday evening.
San Thome High Road was packed with vans and lorries, both big and small, carrying the images of the deity. Huge cranes were also deployed at some locations to immerse the large idols.
Police officials were stationed all along the road and the sea shore to regulate the traffic and manage the crowd.