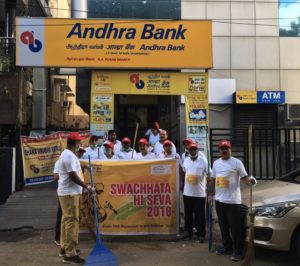 Staff of Andhra Bank's R. A. Puram branch conducted a Swachhta-hi Seva event on October 1 m owning.
They reported early to their bank's premises on Lazarus Church Road, Mandavelipakkam, got into Tees and swept the area around the bank premises.
Andhra Bank Chennai zonal manager M. H. Padmanabham, asst. general aanagers, chief managers and staff members participated.
Actor and BJP member, S.Ve.Shekher also participated, said a media note from Arun Prakash H.,
branch manager.
Contact phone : 24618966