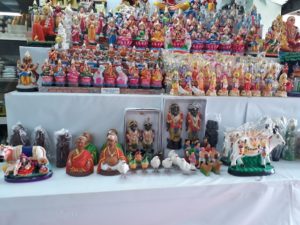 Located behind the MTC bus stop opposite to the Sri Kapali Temple tank on R. K. Mutt Road is the Khadi Vastralayam store. Apart from the regular products sold at a Khadi store, the place offers a variety of kolu bommai for the Navarathri season.
Images of deities Perumal, Anjaneyar, Kali, Ashtalaksmi and Dashavataram share space on the showcases with those of thatha-patti and birds and animals.
There are a range of dolls in varying sizes made from Papier mache, clay, and Paster of Paris to a few stone-cut ones.
"All the major Khadi stores have kolu dolls on sale during the Navarathri season every year", said Suresh, store manager.
Apart from the regular cotton and spun garments and beddings, the shop also houses sells Khadi Gramodyog items like handmade soaps, rice varieties, juices, mixes, attars, oils, Ayurvedic medicines, herbal powders, incense sticks and more.
Khadi Vastralayam store is located at 234, Ramakrishna Mutt Road, Mylapore. Ph: 2464 2365.