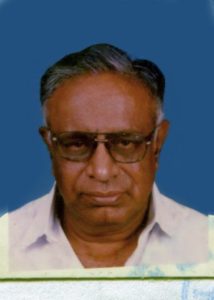 One of Mylapore's well-known and respected doctors, Dr A Jagan Mohan passed away on Oct.3. He was 78 years old.
A general practitioner, Dr Jagan Mohan was known to at least three generations of Mylaporeans because he not only practised medicine the simple, classical and old-fashioned way but charged only a few rupees for his service because  most of his patients were from the middle-class and poor communities.
His clinic on R. K. Math Road in Mandaveli was always packed with people, through the day and late into the night.
People said that often he would pick tablets from his desk and give them for free to the people who could to spend much on buying medicines.
There are also people who recall the ease with which they got a medical certificate from him – at no cost.
S. Nalina Devi, a nurse, who has worked with him for more than six years says, "It didn't matter if the patient dropped by in an Audi car or walked in with torn clothes, the fee was the same for all. If they couldn't pay, he would waive it off. And he never looked at the clock once the patient walked into the room, he would talk to them for as long as they wanted".
The doctor also remembered every single favour and always returned it, she says.
Dr Jagan Mohan is survived by his wife, daughter and grandson. Says Nalina Devi, the nurse at this clinic, "His grandson is in high school and he always talked about how his grandson would become a doctor and take over his clinic one day".
Dr Jagan Mohan continued to practice even in the evening of his life. The funeral was scheduled for Oct.4 morning.
The clinic, at which Dr Jagan Mohan practised for more than four decades, is located at 105, Ramakrishna Mutt Road, Mandaveli. Ph: 24937487.