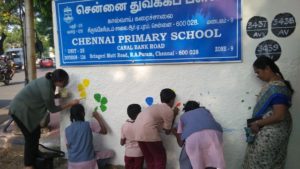 The office of the consulate general of the Federal Republic of Germany, Chennai joined hands with Karam Korpom Foundation, a Chennai based NGO which has been transforming many abused public spaces through community painting, to spread the awareness on water conservation among the school children through wall art.
To make the campaign more effective, Karam Korpom Foundation, came up with the idea that the school children be involved at every stage, right from concept generation to finished wall art.
The Consulate team readily agreed to the proposal and came forward to support the events.
As a part of the campaign, awareness sessions on importance of water conservation, followed by
drawing competitions on "Save Water" theme were conducted at Vidya Mandir School, Mylapore and
Corporation Chennai High School, R.A.Puram.
It was decided to use the selected concepts out of the drawing competition as wall art themes for painting the school walls at the respective schools.
At Chennai High School, R. A. Puram, the drawing competition along with an awareness session was
conducted on Nov 17 followed by the community wall art event on Nov.25 and 26. Prizes
for the winners and were given away. Students of Corporation High School joined hands with volunteers of Karam Korpom and painted the school wall.
Members of the cultural section of the German Consulate also took part and
experienced the joy of community painting.
The impact of the wall art was so good that a lot of people passing down the road, did pause for a
while and looked with appreciation at the wall paintings as well as the messages.
Karam Korpom intends to carry out the next wall art at Vidya Mandir school walls in the coming weeks.
People interested in lending their hands for such community wall art events, can register at
www.karamkorpom.org or send a message to whatsapp number 98840 32182.
– Report and photo by S.Shivkumar / trustee, Karam Korpom Foundation. Phone: 98400 62722