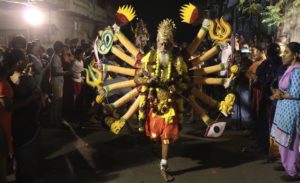 The Soorasamharam celebration at Sri Veerabhadraswamy Temple in Mylapore follows a unique tradition and this is what drew over 500 people to it on November 13 evening during the annual Skanda Shasti festival.
Here, the temple priest dons the role of lord Muruga and goes about challenging and doing away with the asuras, which are created in local material for the ritual.
The tradition unfolded on Tuesday evening from the moment a grandly decorated lord Muruga on a palakku was brought out of the temple located on Madhava Perumal Street, Mylapore. The procession wended its way to the nearby Sri Mundagakanni Amman Temple where some symbolic rituals were carried out.
It then got back to the Sri Veerabhadraswamy Temple zone and the ritualistic act unfolded.
The ten-hand donned temple priest, in the role of the lord went about slaying the demons as they came after him. And as the symbolic act came to a close, fireworks were burst to signify the victory over evil.