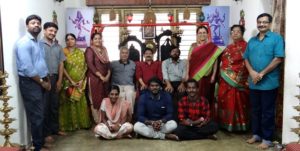 'Knowledge Swayamvaram', an interaction session with research scholars, professors,  historians and artists in dance, music, arts and crafts was organised by Mylapore Trio at their residence at Mandavelipakkam on Nov 11.
The event began with an introduction, after which the students were given an opportunity to interact with the experts. The resource persons included Dr. G. J. Sudhakar, professor and head, historical studies, C. P. R. Foundation, Rangaraj, journalist and founder of Chennai 2000 Plus, Chitra Rangaraj, journalist and historian and Dr. Sumabala, professor of history, Quaid-E-Millet Colege for Women.
The discussions, which went on for two hours, ended with a sumptuous high tea.