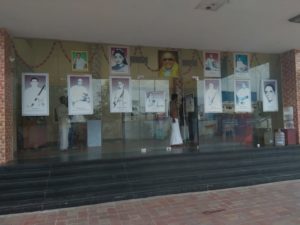 At Muthamizh Peravai's T. N. Rajarathinam Kalaiarangam, young and aspiring nadaswaram and thavil artistes from Thanjavur, Trichy and other districts are encouraged to perform here.
This place is to the north west end of the Adyar bridge in R. A. Puram.
"Unlike other sabhas, we give the main slot from 6 pm to 9 pm to these artistes and we have 4 days from Dec 12 to Dec 15 exclusively for nadaswaram and thavil concerts," says Vazhuvoor Ravi, secretary of the Manram.
"In memory of the great nadaswara vidwan T. N. Rajarathinam, Kalaignar M. Karunanidhi, constructed this hall and named it after this artiste. He wanted to preserve and grow this artform. Hence every year over the past seven years the T. N. Rajarathinam award is also given," he says.
The festival is on till Dec 15, evenings. Open to all.
At Muthamizh Peravai, T.N.Rajarathinam Kalaiarangam, R. A. Puram
Phone: 9444019728
Report, photo by J. Dheepthi, trainee reporter