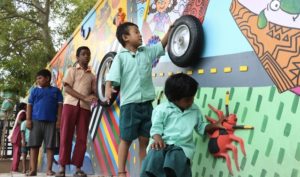 The special park created in San Thome which provides loads of facilities and fun to special children was formally opened via video conference by chief minister Edappadi Palani Swami on Monday.
This park, located behind the Registration Office off San Thome High Road is designed so as to let special children enjoy play equipment, walled art and audio-based playthings.
The walkways are paved such that the kids don't get hurt if they fall. And even the washroom is designed for these special kids.
This project, one of its kind in Tamil Nadu is the idea of Bangalore based NGO, Kilikili who worked with Luz-based City Works, took the idea to Chennai Corporation which got it executed under the Smart City umbrella.
The park is open to all, though it offers fun and games for special children.
Now, City Works wants to build a community-led initiative group which will look after the park so that it is not abused or vandalised.