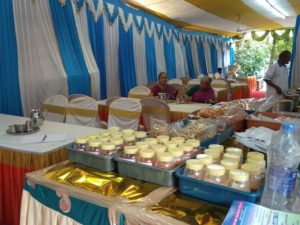 At Meenambiga Caterers who have sent up a tent in the campus of Mylapore Fine Arts Club sabha in Mylapore, hospitality is at its best. "We smile at our customers and serve them with courtesy," says K. Baskaran, the owner.
Meenambiga has been tenting at this sabha for 25 years now. "They trust us since we prepare everything in a healthy and hygienic manner. We use only refined SVS oil and coconut oil. Everything is fresh and no preservatives are added," says Baskaran.
The specialities on the menu here are Asoka halwa, kuli paniyaram, sevai varieties ( veggies, lemon, coconut ), keerai vada, vazhaipoo vada, double takkar idly (Chettinad special with chutney tucked in), thenga kollukattai, pal payasam and rasam rice.
 They also have a snacks corner with mixture, pakoda, idli molaga podi and parupu podi.
"We love all the items here. Keerai vada, appam and kuli paniyaram are our all-time favourite. They welcome us with a happy face and give a homely feeling," says V. Bhavani from West Mambalam who was dining here.
Sapad ( lunch) is at Rs.170 and opens at about 11.30 a.m.
The canteen is open from 6 am to 9 pm. The place can accommodate 40 people at once. Open till Jan 1, 2019.
Contact 9841031513, 7299931513.