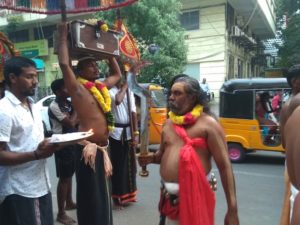 As a part of Mahakumbabisheka festival hosted by Sri Ayyappa Bhakta Jana Sabha, the Thiruabarana petti (holy jewellery box) of Sri Ayyappan was taken in procession with chenda melam leading it across the Mada Streets of Mylapore on Dec 14 evening.
Later, lord Ayyappa deity was decorated with this jewellery and mahadeeparadanai took place.
The festival started on Dec 13 and will be on till Dec 15.
On Dec 15 at 6 pm, mahasahasranama archanai will take place. Mahadeeparadanai will follow at 9 pm.
The sabha premises is at Nadu Street -Venkatachalam Street, Mylapore.
Report by J. Dheepthi, trainee reporter