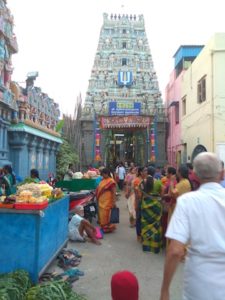 Thousands of people gathered at Sri Adi Kesava Perumal Temple, Mylapore to get a darshan of the deity coming through the paramapada vasal on Vaikunda Ekadasi, Dec 18 at 4.30 am. The deity was adorned with precious stones (vajrangi sevai). Garuda Sevai was held at 7 a.m.
"It is very auspicious to walk through the paramapada vasal today. We feed agathi keerai to cattle. We fast from this morning till the next morning (dwadasi). To break the fast we first drink tulasi water. Later we prepare a grand meal. Agathi keerai is a must.  To stay awake on the night of Ekadasi, we play games like snake and ladder and pallanguzhi", says Lalitha Kumari, a resident of  T. S. V. Koil Street, Mylapore.
The paramapada vasal will be open for ten days, till the end of the Ra Pathu utsavam.
Outside the temple, vendors were seen selling different types of vegetables and pooja items.
Report by J. Dheepthi / trainee reporter