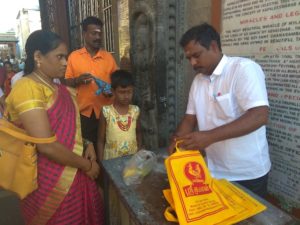 The temple management of Sri Kapaleeswar Temple, with the help of Mylai Kalai Pournami Bhakti Valam, enforced the plastic ban in the temple campus from Jan 1.
The volunteers of the Bhakti Valam stood at the two entrances of the temple. They took the archanai items that people carried from the plastic bags and replaced them cloth bags (manja pai) and gave it back to them.
"Since 4.30 am, we started distributing bags. We gave around 50,000 bags in the morning alone. Our stock got over. We didn't expect so big a crowd. People started asking for more bags. Since this is the first time, we gave it off, " says K. Hariharan, a member of Bhakti Valam.
"We are planning to do this more often," he adds.
"Avoid plastic. Please bring your own cloth bags from tomorrow. No archanai if you bring plastic covers," the volunteers said while distributing.
In the evening, since their bags got over, the volunteers collected the plastic covers people had and asked them to carry the items in it by some other means. Some women were seen carrying them in their saree pallu.
The volunteers also went around the temple and told the street vendors selling archanai and other pooja items to use only cloth bags.
Most of the vendors on the Kapaleeswarar East Tank Street have switched to cloth bags now. " The temple officials have told us strictly. Hence we have started using cloth bags from today. We are not charging for the bag. People will stop buying if we do so," says a flower vendor.
A few hawkers outside Sri Velleswarar Temple have also started using cloth bags. "The temple officials have been requesting us not to use plastic covers," says a flower vendor located outside this temple.
In Sri Vedanta Desikar Temple too, the management has put up a board that says 'Please do not use plastic items inside the temple.'
At Sri Adi Kesava Perumal Koil the officials said that since January 1 morning, they have been announcing over the speaker to avoid plastic inside the temple.
Photo, report by J. Dheepti/ trainee reporter