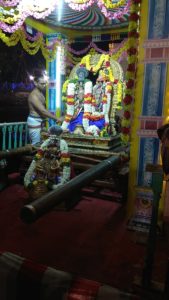 The Annual Teppam utsavam kicked off at Sri Adi Kesava Perumal Temple on Feb 4 evening.
The chitrakulam tank was lit with colourful serial lights.
On the first day (Feb 4), the teppam took place for Sri Adi Kesava Perumal and Goddesses Sridevi and Bhudevi.
On the second day (Feb 5), Sri Adi Kesava Perumal and Goddess Andal in rangamannar thirukolam were taken in a procession around the Kesava Perumal Streets. The procession stopped in front of a few houses where devotees offered fruits and camphor.
The deity of Sri Pezhalvar with folded hands was taken in procession facing Lord Perumal and Thayar in front.
Following this, the deities were placed on a specially decorated float that was taken around the nirazhi mandapam of chitrakulam tank nine times.
The temple priests recited the naalayira divyaprabandams on the first two rounds. During the remaining rounds, students of Sruthinikethan Arts Academy, Villivakkam sang bhajans and devotional songs at a stage put up in front of the tank.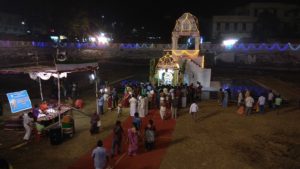 Crackers were burst at the four sides of the tank by the temple volunteers.
Artistes played nadaswaram, thavil, gowri kalam and other musical instruments during the rounds. Many devotees gathered around the four sides of the tank to offer their prayers.
 The utsavam will be on till Feb 8 at Sri Adi Kesava Perumal Temple, Kesava Perumal Street, Mylapore from 6.30 pm onwards.