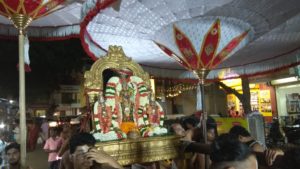 Annakooda Thirupavadai utsavam was celebrated at Sri Vedanta Desikar Devastanam on Feb 22.
A special thirumanjanam was held for Sri Srinivasa Perumal in the morning.
"Earlier, we used to make 30 varieties of rice. And arrange a huge heap of rice and decorate it for this utsavam. But this year, due to the water crisis we couldn't make so many varieties," said a priest at this temple.
Later, at 7 p.m. Lord Srinivasa Perumal along with his consorts Sridevi and Bhudevi was taken in procession around the mada streets.
Then, a procession took place for Sri Srinivasa Perumal and Goddess Alarmelmanga inside the temple.