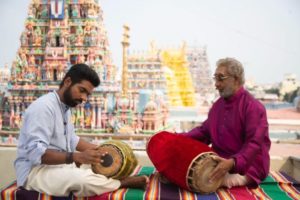 Here then is a film on Carnatic music. Perhaps more – a film on percussion music. A film on the people who make these instruments. Their lives. The divides. And one question that film maker Rajiv Menon tries to probe – why hasn't the community also produced artistes?
Sarvam Thaala Mayam opened to positive reviews and fairly full houses at Chennai's theatres which are still packing in fans and movie-buffs for Rajinikanth's 'Pettah' – a loud, ear-splitting, violent movie and sets the stage for his politics and gives some glimpses of the cool Rajini style.
Menon knows his music. He has used it well in his past films. With AR Rahman here as composer, he uses it well too.
And having done a full length documentary on mridangam vidwan Umayalpuram K. Sivaraman, his intimacy with percussion vibrates lightly in this film. And he uses that knowledge well to mould his film; veteran actor Kumaravel as the hereditary drum maker and lead actor G V Prakash as his son who is a manic fan of actor 'Thalapathy' Vijay, then wonders at the mastery of the mridangam vidwan Vembu Iyer played by veteran actor Nedumudi Venu, and becomes his student and goes on to play for Bombay Jayashri . . .
The actors make this film. Nedumudi Venu, Kumaravel, Prakash . . .even the small roles essayed by dancer-actor Vineeth, dance guru Shantha Dhananjayan, singer Sikkil Gurucharan and TV anchor DD ( Divyadarshini).
Actor Prakash learnt a few mridangam playing skills under Umayalpuram Sivaraman (Prakash is also a music composer / director)
Mylapore, the heart of Carnatic music is the stage though you do not get the real vibe of this Chennai place in the film. Shootings were at Our Lady of Light Church, Luz and in the Mylapore zone.
Menon beautifully picturises one song to showcase India's rich music heritage. But it is the 'nadam' that he underlines, time and again in the film.
The film touches on the real issues but does not delve into them – caste and class, the exclusiveness and snobbishness of Carnatic music, the growing attraction to light-pop classical and TV shows. You know Menon treads the fine line for obvious reasons – the box-office does mean something.