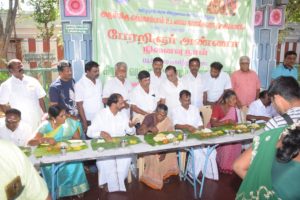 On Feb 3, special prayers were organised at Sri Kapali Temple, Mylapore to mark the 50th death anniversary of former chief minister C. N. Annadurai.
The guests included HR&CE minister, Sevoor. S. Ramachandran, Mylapore MLA R. Nataraj, Cheyyar MLA K. Mohan and R. Sudarshan, joint commissioner, HR&CE.
500 dhotis and 300 sarees were distributed to the general public by the guests. A feast was also organised at the temple premises.