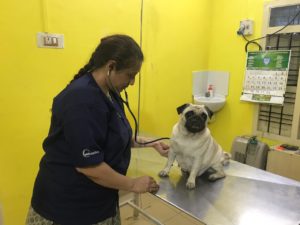 Sri Krishna Vet Clinic run by Dr. Sujatha at 4th Street, Abhiramapuram has now relocated to Luz.
"The building at Abhiramapuram is undergoing a demolition so I had to move out", she said.
The new clinic of 1000 sq. ft has a diagnostic clinic, and in-patient facilities along with boarding, grooming, spa and birthing facilities for pets. It also stocks diet supplements and veterinary diet food that is required for animals along with basic pet food products.
Sri Krishna Vet Clinic is now located at 2, P.S. Sivasamy Salai, Karpagambal Nagar, Luz. 9 a.m. to 9 p.m. on weekdays and 10 a.m. to 1 p.m. on Sundays. Ph: 42106772 / 9884874116.