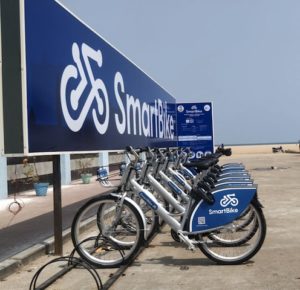 A cycle-sharing facility has been launched on the Marina on Friday and a few people have taken a look at this facility. This follows the formal launch of this transportation in Anna Nagar this past week where the Metro was at the centre of the service.
The Hyderabad-based SmartBike company says it will offers this service for a fee across 400 plus points in Chennai.
On Friday morning, three stations on the Marina became active. This mobility service which allows you to pick up a cycle at point A and drop it off at point B for a fee.
One of the bike stations is on the service road of the Marina, behind Gandhi statue. The other two are one near the Chennai Corporation swimming pool opposite Presidency College and a third behind Labour statue.
Ranjit, vice-president (operations) of SmartBike told Mylapore Times on Friday that the current service on the Marina targets tourists though anybody is free to use the cycles. "The operation is simple but we have stationed our staff to guide users. There will also be a security person at night time."
The service works from 8 am to 8pm, all days of the week.
Ranjit says more stations will be opened soon in the Mylapore neighbourhood. His team is talking to Traffic Police and others to finalise the Myalpore plans.