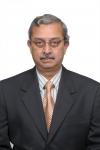 Dr. Ramachandran, a renowned dentist and a resident of Mylapore, passed away on March 2. He was 68 years old.
He founded Dr. Ramachandran's Dental Clinic (now Odontia Dentistry) at Mandavelipakkam. He started his dental practice in 1976 and was since practicing in Mylapore area for the past 43 years and current clinic for past 20 years.
He retired as Principal of Ragas Dental College & Hospital where he served for 26 years as a Professor at the  Department of Conservative Dentistry and Endodontics.
He was involved in Freemasonry for 35 years, Rotary Club of Madras and many other social organizations. He conducted many dental camps in downtrodden areas through Rotary, Freemasonry and other organizations.
He also treated and oversaw the treatment of many poor patients through his clinic, dental college and organizations like Sai trust.
He served various committees of Federation of Operative Dentists of India, Tamilnadu Dental Council & Dr MGR Medical University.
"He was an avid tennis player" said his son Dr. Sudarshan Ramachandran, who currently manages the practice.
"He was a specialist in artificial teeth, especially those used by actors in movies", C.R. Balaji, who got his teeth replaced here after suffering a severe accident.
To many of his clients, mostly of the Mylapore area his death was a shock.
He is survived by his wife Dr. Sudha, son Dr. Sudarshan and daughter Rathi Pradeep.
The family resides at 'Shamrock', 88-B, San Thome High Road, San Thome. Ph: 9790937224