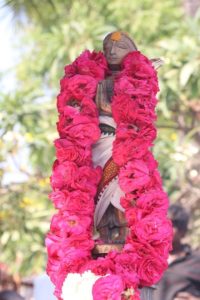 According to ancient texts, saint Thirugnanasambandar was less than five years old when Lord Shiva and Goddess Parvati appeared before him. The goddess fed him some milk. When his father, who saw drops of milk on his mouth, asked him who had fed him, Thirugnanasambandar pointed to the sky and sang the song 'Thodudaya Seviyan', a verse from the Thevaram. This is known as the Gnanapal event.
About an hour ago, when the Adikara Nandi procession reached South Mada Street, Mylapore a small pooja was held at the temple tank to mark this event. Devotees were seen offering milk to the deity and later distributing the same to the people who had gathered there.
This event is held prior to the Angampoompavai incident which will be held tomorrow.