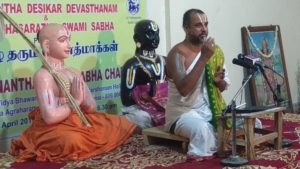 Sri Vedantha Desikar Devasthanam and Sri Parthasarathy Swami Sabha have jointly organized a special prayer for rain at Sri Desika Vidya Bhawanam, Venkatesa Agraharam Street, Mylapore.
The five-day event started on April 24, and it will be on till April 28 in the evenings from 6.30 p.m. Dr.U.Ve. Anantha Padmanabha Chariar will be reciting upanyasam on all the days till April 27.
On the last day, April 28, a Music Yagna will take place. Renowned artists will be performing continuously from 9 a.m. to 6 p.m.
In the morning, Dr.Sudha Raja's Sargam Choir, Mylai Karthikeyan (Nadaswaram), Rajhesh Vaidhya (Veena) and Vishnudev Namboothiri will be performing.
Following them, B.Suchitra (Harikatha), K. Gayathri Prasanna, Apoorva/Anahita, Ashwath Narayanan will perform along with other artists.

Anantha Padmanabha Chariar says, "According to Ramayana, Mahabharata, and Bhagavatham, it is believed that rain will come if we pray to these five gods – Rishyashringar, Shwapalkar, Dharmaputra, Rishbhadeva, and Anasuya Devi. So this prayer is based on them."
The Vedanta Desikar temple has been suffering from an acute water shortage from a few months. "Since we perform all our temple activities only with well water, it is becoming very difficult for us," says R. Mugundan, the temple trustee.
Due to the water crisis, from the past two weeks, the temple is borrowing water from Srirangam Srimath Andavan Ashramam, Desikachari Road, Alwarpet. Following the tradition, the priests are traveling on a bullock cart to fetch water from the Ashramam.
"We had organized this prayer before a month. Now, as the event was happening, we got the news about the cyclone. It has given us hope that at least some rain will come," says Mugundan.
The event is open to all. At Sri Desika Vidya Bhawanam, Venkatesa Agraharam Street, Mylapore.