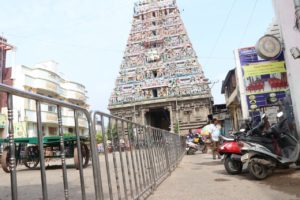 Permanent metal barricades have come up in the quadrangle on west side of Sannidhi Street, opposite Sri Kapali Temple's east gopuram. 
Two wheelers and autos will not be able to get into this zone but it is not clear what purpose the barricaded area will serve.
This space served as a parking lot for dozens of bikes, push-carts and autos. A few hawkers had hijacked this space.
Now, motorists visiting the temple are parking vehicles outside the barricaded area making it extremely difficult for people to walk to the temple from the eastern side. Some hawkers have now taken over the space at the side gate of the temple and police are looking the other side. It is now clear who erected the barricades – the temple authority or the Traffic Police.
Here below are a selection of the many comments made by Mylaporeans on a video post on this issue posted on the Facebook page of Mylapore Times on Thursday.
Hema Prasad
Not a good move..where will the vehicles be parked now? It will add more chaos to the adjoining streets and increase the congestion.