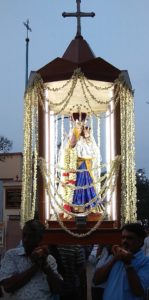 On May 30 evening, members of Our Lady of Guidance Church took out a car procession in honour of Mother Mary.
The procession was held in the area around the church in R.A.Puram. The statue of Mary was placed in a palaquin which was decorated with fresh flowers and lit up.
Some 30 people, mostly women made this procession.
The month of May is dedicated to Mother Mary and special prayers are said in churches throughout the month.