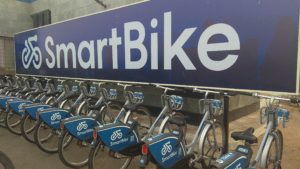 The 'Smart Bike' sharing system started its operations at Marina in February this year.
It was launched by the Greater Chennai Corporation in collaboration with the Hyderabad-based SmartBike company as a part of Smart City project.
The cycles have many takers now. "Sometimes, especially on Saturdays and Sundays people have to wait since no cycles are available," says V. Balu, the security guard at the station behind the Gandhi statue on the Marina.
S. Saravanan, a regular user of the smart cycles says, "It is very useful to go to places closeby. And the bikes are not causing any back pain, unlike other bikes and cycles. That's the biggest relief for me. It will be more helpful if the station operates from 6 a.m."
Many early morning joggers and fitness enthusiasts seem to want the services to start at 6 a.m. "We have to go back and get ready for office," says Balu.
"Also, the heat drives off people early so the services must open early in the city," says Karthik, a college student who has the thumbs up for this service.
The smart cycles can be accessed via the SmartBike mobility App and those who don't have the App can call 044 26644440. The operation is on from 8 a.m. to 8 p.m. on all days.
The fee for the first 60 minutes is Rs.5 and for every extra 30 minutes, Rs. 9 will be charged. Users can also avail daily/monthly subscription.
The details are at www.smartbikemobility.com