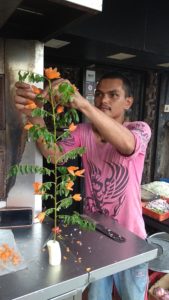 On June 21, Rudhra, a staff of a food joint off R. K. Mutt Road was busy making a creative decoration item with curry leaves, radish and carrot pieces (shown in picture).
As he was making it, passersby stood by the restaurant to see the item being made.
He says, "He learnt this skill when he was working in Mumbai a few years ago."
"Customers like when there is a change. So I try to make different decoration items like this," he adds.