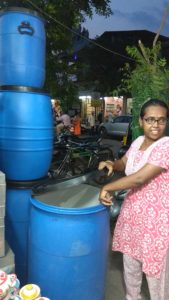 This summer, Pandian Stores, a shop that sells household items on South Mada Street has started selling plastic water storage cans of various sizes. A smart move in times of crisis.
P. Chandrashekar, the owner of this store says, "This year, for the first time many of my customers, requested me to sell drums to store water since we are all facing a severe water crisis."
The shop has cans that can hold 50, 80, 130 and 250 litres of water. "Among them, the 250 litres drum is in high demand now," he says.
Amutha who ordered for a drum says, "It is useful for storage, especially when private lorry water gets delayed or when the Metro Water supply is low."
The 250 litres can is priced at Rs.1000.
This store is on South Mada Street, opposite Mylapore Hindu Permanent Fund office.
Similar drums are also on sale at some shops on Kutchery Road.