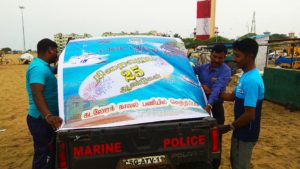 Coastal Security Group (CSG) of Tamil Nadu will be conducting various programs at Queen Mary's College at Dr. Radhakrishnan Salai, Mylapore as a part of its week-long silver jubilee celebration.
As a part of its celebration, CSG will hold public awareness meetings, medical camps, essay writing competitions and sports events at schools and colleges near the coastal areas.
On June 27, CSG started their silver jubilee celebration across the state as it had completed 25 years of service since its formation on this day. It is a special unit of Tamil Nadu Police that was formed on June 27, 1994.
"To mark this occasion, the Director General of Police, Tamil Nadu released a book titled 'Handbook on coastal security', which is first of its kind," said a release shared by CSG.
This evening the team distributed pamphlets at the Marina beach and fixed posters at the Marine police vehicle to inform the people about its activities and its celebration.
"The theme of the competitions at schools and colleges will be coastal security. We will also hold sports competitions for fishermen in the coastal areas," said A.Irudayam, Inspector, CSG, Chennai.