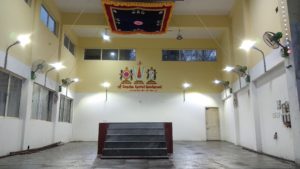 Sri Vedanta Desikar Devasthanam, Mylapore has opened its new Gangai Kondan (G. K.) mandapam at the far end of Chitrakulam West Street near P. K. Mahal. It was under construction since the past few weeks.
R. Mugundan, the temple trustee says, "The construction of the mandapam was made possible with the help of funds from donors. It is specially designed to aid us during our temple festivals – Bramotsavam and Desikar Utsavam. The deities will be placed here for 45 minutes after every procession. And people can worship during this time."
The mandapam spread across 1500 sq ft has a tall roof. "We ensured to construct it at that height in order to have enough space at the top when the deities are lifted along with vahanams," he says.
Now, as the Brahmotsavam is on at this temple, the mandapam is decorated with colourful serial lights, pandals and kolams. The Brahmotsavam festival will be on till June 13.
The temple has also constructed a few rooms near this mandapam."We will rent it to people who want to perform the annual death ceremony (Thithi) to their forefathers," says Mugundan.
People who want to avail the rooms can contact the temple office at 24953799 or the temple trustee Mugundan at 9841047064.