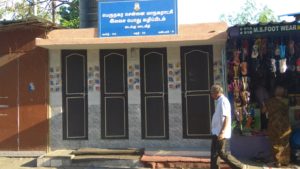 A few months ago, Chennai Corporation constructed a set of four toilets at North Mada Street off the tank of Sri Kapaleeswarar Temple, Mylapore.
However, since past few days, the toilets have been locked up and people are unable to use them.
The Corporation's contract worker was taking care of the maintenance of the toilets. "Since the water crisis started people were allowed in only one toilet, and the other three were locked. Now the person who mans the toilets has not been coming and hence all the four are locked since a few days," says a flower vendor.
Due to this, girls working in shops and the flower vendors are facing problems."We now have to go all the way near Mangolai or to the toilet near Sri Kapali Temple," says Soumya, a girl who works at a shop in North Mada Street.