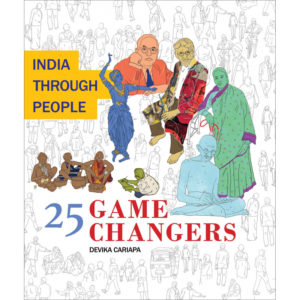 Tulika publishers in its India Focus series is now releasing India through People: 25 Game Changers by Devika Cariapa – a look at some outstanding men and women who charted the course of modern India.
This book will be launched in Chennai on August 17.
The Chennai launch will have a Game Changers Quiz on personalities from Indian history for children of Classes 7–8, conducted by well-known quizmaster Advaith Jayakumar.
At 10:30 a.m. on August 17 at the Tulika Bookstore, Alwarpet ( 305, Manickam Avenue, off TTK Road).
The previous book in the series – India through Archaeology: Excavating History – won this author The Hindu Young World–Goodbooks Award for children's non-fiction in 2018 and, more recently, Sahitya Akademi's 2019 Bal Sahitya Puraskar.
About the book ( as stated in the press release): What does it take for a person to alter the course of a nation? Spotlighting 25 such change-making individuals, the book looks at the times in which they lived, the challenges they dealt with, and the paths they forged.
Quick introductions position personalities as game changers, chatty stories sketch their profiles, crisp timelines fill in the gaps, insightful quotations balance perspectives, and creative collages present visual montages. What emerges is the powerful journey of a country at the threshold of change, committed to charting its own course, helmed by its richest resource – its people.
The book is available on www.tulikabooks.com and in leading bookstores around India.
You can reach the Tulika store in Alwarpet at 2499 1639/ 1407/ 1428