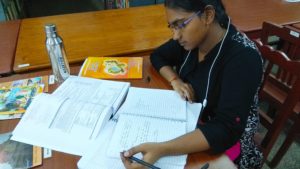 Soon college students and aspirants of competitive exams will get a quiet place to study at Sri Ramakrishna Math, Mylapore.
The Math, located off R.K.Mutt Road, will be providing this space free of cost at the newly constructed Yatiswarananda Hall located inside its library.
"The main objective of this facility is to provide a quiet, well-lit place with basic amenities for aspiring young students who might not have such facilities at their homes. The hall will be opened in a few weeks," says a volunteer at the library.
Application forms to sign up for this facility are now available at the Math's library. The timings of the hall will be 9 a.m. to 1 p.m. and from 3.30 p.m. to 6.p.m.
A few students have already enrolled themselves for this facility. For the time being, since the hall is in its last phase of construction, these students are asked to study at the library.
One recent evening, two CA (chartered accountant) aspirants, Uthra and Aarthi were found studying here. They reside in local hostels. Said Aarthi," Since the rooms at our hostels are very congested it is very difficult for us to study there. This space is spacious and comfortable."
Adds Uthra, "The library atmosphere motivates me to study well. I'm able to concentrate better and finish my daily targets on time. It will help if they extend the timings till 8 p.m. and reduce the lunch break hour."
For more details contact: 24621110 or e-mail: library@chennaimath.org