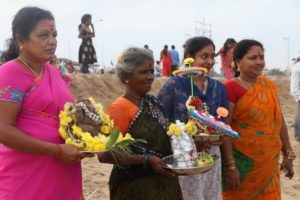 A few people began to let the idols of Vinayaka to be set off into the sea on Monday evening after the morning rituals.
Many families landed up at the Pattinapakkam shoreline to drop the idols in the sea. A few large idols were also brought here for the immersion.
This is is the designated place in this part of the city to immerse the idols. The mass immersion will probably happen on the weekend when hundreds of idols mounted on vans and lorries are brought here for immersion and cranes are used for this purpose.