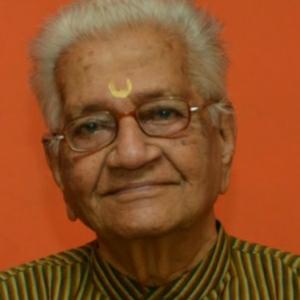 V. Ramadurai, a resident of Mandaveli passed away on  Sept.2. He was 93 years old.  ( seen in photo on top, left)
He was born on April  26, 1926 at  Kutchery Road, Mylapore and spent 80 years of his life in the neighbourhoods of Mylapore and  Mandeveli.
He worked at Madras Port Trust and retired as senior administrative officer.  A native of Mannargudi, he was also the secretary and correspondent of National Higher Secondary School, Mannargudi. His close association with the Kanchi Mutt and the acharyas was a driving force for his involvement in activities of the Mutt, his family said. 
He started the NRI Parents Association and the monthly Anusham pooja in Dallas, USA. He is survived by his wife and a daughter. The family can be reached at 9445128146.
—
M. Srinivasan former cricketer and  long time resident of Mandaveli passed away on Sept. 5 at the age of 94
An employee of Southern Railways, he had represented Indian Railways and Tamil Nadu in Ranji trophy matches. Srinivasan was also the chairman of the Tamil Nadu Cricket Association's selection committee for schools and was also a qualified umpire.
Said his son S. Ganesh Ram, who is an international tennis umpire, "He was passionate about the game. He was the founder member of the Royapettah Cricket Club and ran it for 50 years. Well known cricketers like L. Sivaramakrisnan. W. V. Raman and Badani were trained by him here. My father's team mates included players like V. V. Kumar and S. Venkataraghavan."
Srinivasan is survived by his wife Mangalam, daughter S. Chitra and son Ganesh Ram. The family resides at 34, Venkatakrishna Road, Mandaveli. Ph. 9444246645 / 944514242.
—
Dr. V. Umamaheswaran, a longtime resident of Fourth Trust Cross Street, Mandaveli passed away on September 5 at the age of 97.
He was a veterinary doctor who retired as professor of surgery from Madras Veterinary College.
After completing his schooling at P. S. High School in the 1930s, he graduated from the Madras Veterinary College, Vepery and then trained in veterinary surgery at Tierartzliche Hochschule in Hanover, Germany in the late 1950s, writing his thesis in the German language.
Since his return, he taught at Madras Veterinary College, combining hospital clinical practice as well as teaching and research to which he made several original contributions. In his later years, he served as honorary vet at the Animal Welfare Board (Government of India) and went around the city to treat animals.
Said his daughter, "Many recall his selfless service to alleviate the sufferings of animals. Milkmen around this place remember him as the only doctor who was available at call any time day or night to treat cows and buffaloes. He was the only horse specialist in Chennai during the height of his professional years."
"Besides treating pet animals like dogs and cats, he had treated elephants, tigers, bears and sheep," added his daughter.
The Alumni Association of Tamil Nadu Veterinary and Animal Sciences University presented him the Lifetime Achievement Award in 2013 . He was awarded the Certificate of Merit by the Mylapore Academy for his services to the cause of animals. He was a member for many years of Max Mueller Bhavan, Chennai.
Uma Maheshwaran is survived by three daughters and a son.The family can be reached  at King's Manor,62/35, Fourth Trust Cross Street, Mandaveli. Ph. 24938432.
—
Film producer S. Sriram of Aalayam Productions passed away on Sept. 4 after a brief illness. He was in his mid-60s.
Sriram and film director Mani Ratnam together started Aalayam Productions. Aalayam started out with films like K. Subash's 'Chatriyan' (1990), starring Vijayakant, a film considered to be among the best thrillers to come out of Tamil cinema.
Mani Ratnam's 'Thiruda Thiruda' was also made under the same banner. The two of them made a few more films together, including the blockbuster 'Bombay', before parting ways.
Sriram continued to produce films under the Aalayam banner. The last big budget film produced by the company was 'Samurai' starring Vikram in the lead.
Sriram is survived by his wife Nalini Sriram, a well-known costume designer, and son, Nikhil.
The family resides at Kegeeyes Shanthi Apartments, 42/78, Luz Avenue 5th Street, Mylapore. Ph:9840060636.