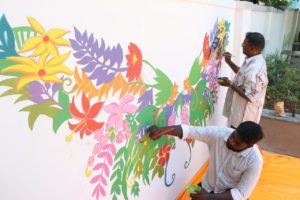 On Saturday, September 14, Cityworks conducted a community wall art event at Infinity Park, San Thome, an inclusive park for children with and without disabilities.
Residents of the community, children with special needs and their
parents, and volunteers armed with brushes, enthusiastically painted the outlines drawn on a wall by an artist.
One parent said, "It was such a stress-buster. I was so immersed in painting, I didn't even have to worry about keeping an eye on Sanjay (son)."
Another said, "I have never painted before. Once I started I didn't want to
stop."
The wall art has made the park a bit more colourful now. This park is off San Thome High Road, near Registration Office and local Amma Unavagam.
Reported by Sneha Raghuram / Vidya Mandir student