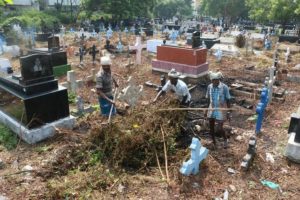 Every year, November 2 is observed as All Souls Day by the Christian community. The day is dedicated to prayer and remembrance of the dead. Masses are offered and people visit the graves of their loved ones, decorate them with flowers and burn candles.
The St. Mary's Chennai Corporation cemetery in Mandaveli has been cleaned up for this religious event which draws a large number of people, to mark the day.
But one issue that bothers the people who manage this place is the lack of space to bury the dead of the Christian community.
This graveyard is being maintained by Our Lady of Guidance Church, R.A. Puram since 1996. The Cemetery User's Forum is headed by Rev. Fr. Y.F. Bosco who is the president. The other office bearers are Joseph Naveen of CSI Tamil Church, San Thome  who is the Vice President, T. Joseph Julius of Our Lady of Guidance Church who is the secretary and Jude Mangalraj of Our Lady of Visitation Church, Abhiramapuram who is the treasurer.
Some Rs 1.50 lakhs is spent every year towards the expenses for the All Souls Day services. The Forum has arranged to clear the wild growth inside the cemetery and has installed CCTV cameras for security purposes.
Chennai Corporation helped for proper illumination of the cemetery.
The Forum now seeks contributions from the public towards this service.
Photo used here is a file photo.