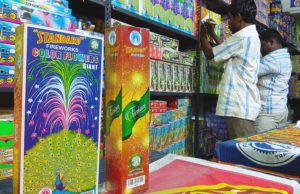 With just a week for Deepavali, vendors  are setting up cracker stalls at various places in Mylapore.
This past Friday, even as fire-cracker seller Manoj, and his men set up the crakers at their shop off R.K.Mutt Road, Mylapore, people thronged in asking for the rates and new varieties.
His shop has stocked over 200 varieties of mostly the Standard brand's crackers.
Some of them are the green crackers that are attached with a label certified by Council of Scientific and Industrial Research (CSIR) and National Environmental Engineering Research Institute (NEERI).
However, vendors say that they do not expect much profit this year. "The demand is high but the production has been low," says Manoj, who says he has been selling crackers from Sivakasi for the past six years.
Earlier this year, in order to control pollution, the Supreme Court banned conventional firecrackers and ruled that only green crackers with reduced emission and sound levels will be allowed to be manufactured and sold in the country.
Hence, after the ban, he says, the production of green crackers could happen only for a few months.
"Now, the manufacture of garland crackers, above 500 wala, has been banned; Instead, they have introduced a variety of comets (cracker variety) in different sizes and colours," says Manoj. Hence, people who usually burst the garland crackers, including 1000 wala, and 5000 wala say they are disappointed.
However, some shoppers welcome the move. Balan, a shopper from Mylapore said, "This time, as an alternative to garland crackers, I have bought kambi mattapu and others that burst in different colours. People should adapt themselves for the welfare of the future generation," he said.
Manoj's shop is near Sri Kumaran Silks on R.K Mutt Road. New comet varieties here are Fusion and 2 –Class. Each one is priced at Rs.156 (per piece) at his shop.