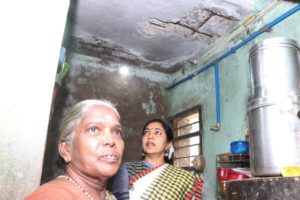 Chennai South Member of Parliament, Thamizhachi Thangapandian was at Valeeswaran Thotam in R. A. Puram this morning (Oct.4) to listen to the voices of residents of this Slum Clearance Board colony of over ten blocks of apartments which are to be demolished and new blocks built.
The DMK MP went around a bit in the common areas but it was when she went inside some apartments that she realised the pathetic conditions in many places – paint that had peeled off years ago, cracks in walls, layers of the roof that had come apart, broken window sills and more.
Her visit comes a week after the deputy CM of the state made a visit.
The Board has planned to demolish the blocks, pay a monthly rental allowance to house owners with valid documents while the blocks are built and grant 400 sq.ft. apartments.